A comprehensive review of the total size relationships of all bedding products and components, from the bed or frame to the top of the finished mattresses, which allows for the best "fitting together" of the bedding ensembles in today's marketplace. Also includes information on other applicable standards and common bedding industry terminology. Includes illustrations and glossary.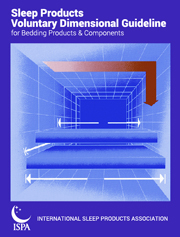 Price
ISPA Members: FREE
Download your FREE copy!
Note: Issues downloading PDF file? Simply right click on the link and select "Save Link As"
Non-members: Cost is $25
Print and complete the Voluntary Guide Order Form and fax to 703-683-4503.