Updated June 2017
The newly updated and expanded Manual of Labeling Laws contains comprehensive information regarding the U.S. and Canadian laws covering the labeling of bedding, upholstered furniture, stuffed toys, and other products.
List of States and Jurisdictions with and without labeling laws
General Requirements for new bedding products
U.S., Federal, State and Canadian labeling law requirements
Information on tagging of secondhand bedding
Illustration of the Uniform Law Label
Contact information for law enforcement officials for questions
Overview of Registration/License process and fees
Explanation of Uniform Registry Number System
Indexed classification of filling materials

Now Includes the FTC's Labeling Requirements for Textile & Wool & The Care Labeling Rule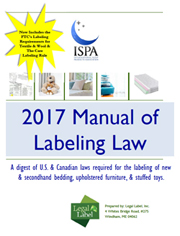 Price
ISPA Members: FREE
Download your FREE copy!
Note: If you have issues downloading the PDF file, simply right click on the link and select "Save Link As" or "Save File As" or "Save Target As" depending on the operating system you are using.
Non-members: $395
Manual of Labeling LawsPURCHASE MANUAL
The history of the Manual of Labeling Laws – how it all began.