Sleep Product Safety Council's (SPSC) safety hangtags are designed to help mattress manufacturers:
Educate and protect consumers
Reduce product liability risks
Support product safety research
Promote activities that advance the safe use of sleep products
Hangtags were created in response to the U.S. Consumer Product Safety Commission's Federal Open-Flame Mattress Standard (16 CFR Part 1633). All mattresses made in or imported into the United States must comply with the law.
Sales of safety hangtags for mattresses fund the SPSC's activities and are available in a card hangtag and a flat permanent Tyvek® label option. Both options provide your customers with valuable information on how to safeguard their families.
Hangtag Order Forms
Over 220 Million Hangtags have been sold! Purchase your hangtags today!
SPSC Hangtag French/English Order Form (PDF) (for US manufacturers only!)
SPSC Hangtag Canadian Order Form (PDF) (for Canadian manufacturers only!)
Pictogram card
A flat hangtag that can be attached or inserted with product-related literature provided to consumers.
Sewn-in Tyvek® Label:
Can be sewn directly onto the mattress.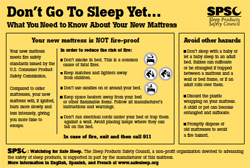 If you have questions or would like more information, please contact Jane Oseth, (703) 683-8371, ext 1201.