Quick Links:
Mattress Industry Trends Report
The Mattress Industry Trends Report provides comprehensive data on U.S. and international mattress industry trends and information to help members stay competitive in today's dynamic and challenging global marketplace. The publication provides the best industry statistics available anywhere.
This report includes:
20-year history of wholesale units, dollars and average unit prices
Regional sales data breakouts
Mattress size breakdowns (by percentage)
Price point data
Import/Export data
Break outs for specialty bedding (non-innerspring mattresses)
Contract Sales
Data on econometric factors that influence the industry
Commentary on industry issues
CSIL World Mattress Industry Report Summary
Integrate your own market data!
To help ISPA members easily integrate market data from the Report into their internal sales and market analysis, members may download the sales data contained in Figures 1-10 of the Report.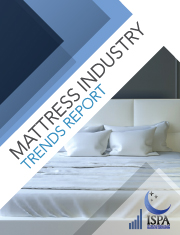 Bedding Market Quarterly
ISPA's Bedding Market Quarterly provides quarterly and year-to-date mattress market data obtained from a large sampling of the U.S. mattress industry. Published statistics include U.S. and regional sales of mattresses and stationary foundations, U.S. sales of adjustable foundations, and retail price point data. Includes timely market commentary by a guest columnist, and data for general economic indicators that can affect the demand for consumer products, including mattresses.
Economic Indicators
To enhance the usefulness of the Bedding Market Quarterly and the Econometric Forecast (issued two times per year), ISPA provides a number of economic indicators that impact bedding sales. The economic indicators are updated quarterly and can be viewed and downloaded below. To help you get the most from this information, we have prepared a Primer to explain what the economic indicators mean and how they can help you and your company gain further insights on what the near future might hold for your company, the industry and the economy in general.
Integrate your own market data!
To help ISPA members easily integrate market data into their internal sales and market analysis, members may download the Monthly/Quarterly Historical Data Spreadsheet which contains mattress industry sales data from 2004 until present.
CSIL World Mattress Industry Report
Understand the dynamics of international trade in the mattress industry. As a supplement to it's annual Industry Trends Report, ISPA offers the latest CSIL World Mattress Industry Report compiled by CSIL Milano, the Centre for Industrial Studies. CSIL is a research company with 25+ years of experience analyzing the global furniture market. This exclusive report includes statistical data including detailed import and export trends for the main 40 mattress manufacturing countries.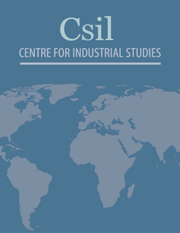 The CSIL World Mattress Industry Report is based on the first section of a five-part report captioned World Mattress Industry Report (code W.17, 2017 edition), published by CSIL Milano. ISPA thanks CSIL Milano for permission to reprint this data. ISPA members interested in learning more about CSIL Milano's full report on the mattress industry may view the Table of Contents.
As an added member benefit, ISPA members may also purchase CSIL Milano's entire World Mattress Industry report from CSIL Milano at a 30% discount from list price. For additional information visit CSIL Milano or contact Giovanna Castellina.
In addition to covering the mattress industry, CSIL Milano regularly publishes reports on office furniture, kitchen furniture, bathroom furniture, upholstered furniture, bedroom and dining room furniture, lighting fixtures, and household and built-in appliances, and offers a variety of business consulting services.